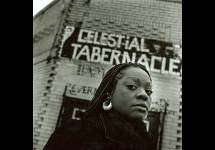 TUESDAY NIGHT SPECIAL
Tuesday Night Special
3 for $30 Menu.
Thornetta Davis
May 22, 2013
SEATING TIMES:
May 22 & 23 Seatings: 6:00 & 8:30, Cover $10
May 24 & 25 Seatings: 6:00, 8:30, Cover $15, Reservations Recommended & 10:30 Open Seating Encore Performance, No Cover


DESCRIPTION:
For over fifteen years this multi-talented native Detroiter has graced and dominated Michigan's most attended events. She has performed over two hundred shows a year with grace and stamina. Her voice is strong, commanding, melodic and smooth. She tells her stories with incredible delivery and leaves her audiences wanting more.
ADVANCED PURCHASE RECOMMENDED
Call (313) 882-5299 to purchase tickets.
The Delicious Fare
Below are some amazing selections that will be a perfect complement to your night.