WE ARE OPEN FOR LUNCH!!! Enjoy your favorites and daily Chef specials!
10:30 - 11:30 ENCORE PERFORMANCES ARE BACK !
NEED TO CANCEL A RESERVATION? Please Give Us 48 Hour Notice. Thank-you!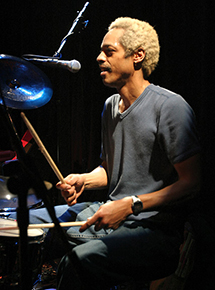 TUESDAY NIGHT SPECIAL
Tuesday Night Special
3 for $30 Menu.
The Valdez Collective
April 24, 2014 - April 24, 2014
SEATING TIMES:
Wed & Thur. Apr. 23 - Apr. 24
Seatings: 6:00 & 8:30 No Cover
Reservations Recommended

DESCRIPTION:
Skeeto Valdez: He's been called a "Force of Nature!", And a few other things! Haha!" Revisiting the age old idea to create a forum to jam with his many musical friends and dubbing it "The Collective" with a simple premise of having a ball, while playing great music. All quite accomplished musicians, The lineups feature a who's who of amazing, talented musicians/vocalist/tap dancers/circus performers, basically TALENT! Playing great-fun-elec/acoustic jazz/Blues/Funk/Polkas/ anything and everything! With an ear towards stretching out from within, If you listen long enough you'll hear something that you'll love. The Collective rolls on! As Skeeto likes to say: CHAMONE!!
The Delicious Fare
Below are some amazing selections that will be a perfect complement to your night.